Art & Decor Hire Package
5 for 5 Offer: Hire 5 Artwork for 5 weeks for $250 (plus GST). And that's not all – as a special bonus, enjoy an 20% discount on all additional artworks, our gorgeous cushions, throws, and decor accessories. Click link above for further information.
Inga Collective Art Hire & Sales
Inga Collective is based in Perth, Western Australia.
We hire art & decor for home and commercial staging. We also have curated a wide selection of art which is available to purchase.
Art & Decor Hire
We work with Perth home owners, interior designers and real estate agents preparing homes to look their best and ready for sale.
Good quality artwork, decor such as cushions, throws and accessessorties, can make all of the difference when staging a home for sale. A staged home adds the WOW factor and helps buyers make an emotional connection to the home. At Inga Collective we have curated artwork and decor for home staging that creates the greatest visual impact.
Hire fees shown are based on a 4 week hire period. We also offer a delivery and collection service.
** Please note that all prices are ex GST.
** Delivery fee applies to orders under $120.
Art Sales
The majority of our hire artworks are also available to purchase by way of special order that way you get to choose the size and framing style to suit your space.
We also have a collection of canvas prints for sale which are shipped direct to you from one of our art suppliers. Please click on our Canvas Wall Art Prints for Sale either in the menu above or link below.
Feel free to contact us any time should you have any questions. Enjoy browsing our Hire Collections.
Art For Hire by Collection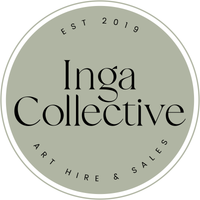 ABOUT US
Established in 2019, Inga Collective is based in Perth, Western Australia. We offer beautiful, high quality Art and Decor for Hire.
We also sell a range of unframed canvas prints.
Our Art and Decor have been curated to inspire home stylists to stage and style homes for sale.
Mairead, Founder,
Inga Collective